Diagnostics of the skin
Diagnostics of the skin - a set of measures, as a result of which a conclusion will be drawn up about its condition, recommendations for the prevention of skin diseases will be given, and the treatment of existing skin pathologies is recommended.
Are you worried about skin health? Want to check the effectiveness of treatment? Diagnosis of the skin in Olympus Clinic will help to evaluate its current state and trace the dynamics of changes.
Modern equipment allows you to create a skin passport, determine the features of its relief, identify defects, vascular and age disorders, diseases, including oncological, as well as check the effectiveness of cosmetic procedures.
Check your health - sign up for the diagnosis of skin in Olympus Clinic!
Показания и противопоказания
Показания
Preventive analysis of the skin
Assessment of the skin condition by basic indicators
Selection of procedures and care products
Consultation and assistance in the selection of care products based on individual skin characteristics
Analysis of skin changes
Assessment of skin visions and its condition
Процесс проведения
Diagnostics of the skin
01
Consultation
As part of a full -time consultation with a cosmetologist, all issues regarding the diagnosis of the skin are discussed. The doctor talks in detail about the procedure. Depending on the testimony and wishes of the patient, the necessary apparatus is selected, the survey area is determined.
02
Procedure
Diagnosis of the skin in Olympus clinics is carried out only as prescribed by a doctor. Antra 3D and Fotofinder devices allow you to quickly study the current condition of the skin, evaluate the changes and the effectiveness of the cosmetic procedures carried out, determine the depth of relief damage - wrinkles, scars, post -acne, detect vascular and pigmented disorders, identify diseases at an early stage, create a skin passport, prescribe treatment And make recommendations for home care.
Услуга проводится с применением оборудования Life Viz 3D Camera
This is a unique apparatus that allows you to simultaneously conduct a deep layer -by -layer analysis of the condition of the skin and demonstrate the expected effect of various procedures on a particular patient in 3D format. Real -time modeling will clearly demonstrate how the individual expectations of the patient can be realized taking into account the anatomical features. The assessment of the quality of the skin is carried out in all respects: wrinkles, pores, fat content, blood vessels, pigmentation, smoothness.
Перейти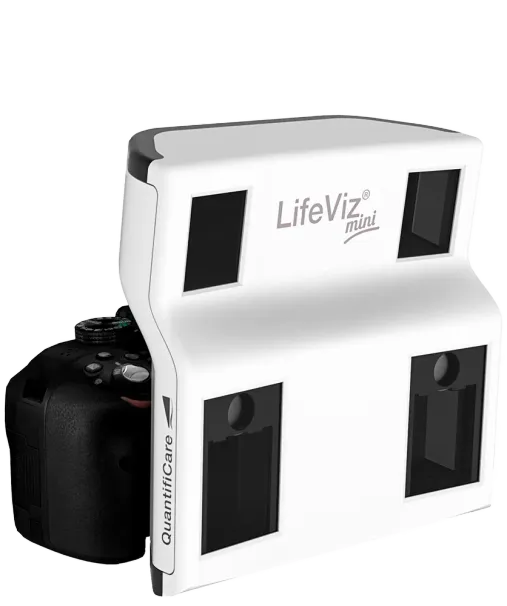 Запланировать визит в клинику
Вы можете запланировать визит в любую из клиник. Выберите время когда вам будет удобно принять обратный звонок для подтверждения записи.